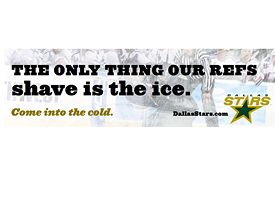 The signs are spreading all over town...
If you've seen the billboard near American Airlines Center, you might think the Stars should be sent to the penalty box for slashing another sport when it's down.
Or you could soak in the message – "The only thing our refs shave is the ice" – and do what Mavericks owner Mark Cuban did.
Laugh.
"I think it's hysterical," Cuban said. "Good for them. It's a fun ad."
NBA commissioner David Stern isn't laughing. But then, how many Stars home games was he going to attend anyway?

Most of the billboards use clever phrases to focus on the aggressive nature of the sport. A billboard by Central Expressway and I-635 states, "One game a week? Is the N in NFL for Nancy?" The club takes a jab at major league baseball, a passion of Stars and Rangers owner Tom Hicks, at I-635 and Old Denton with a sign that reads, "Maybe baseball should stop using the word sacrifice."
Lites said Hicks laughed louder than anyone at that billboard.
And Stern? The NBA commissioner was made aware of the Stars' campaign Thursday afternoon but relayed through a league spokesman that he had no comment.
Did the Stars have any reservations about referring to the NBA's officiating/gambling scandal?
"The answer would be yes," Lites said. "It's edgy. But we're really good friends with the Mavs. They're our partners in the building. I think we thought it would be taken the right way.
"It's not a slap at them. It's more of a snip. I think the same goes for the Cowboys. The NFL is the big daddy."
The most irreverent and outrageous stuff in the campaign hit the cutting room floor. Most of those had to do with dog fighting.
"We avoided taking a swipe at Michael Vick," Lites said.
Should the Stars be applauded for their restraint?
"Well, yeah, but it's a long life," Lites said. "We can take these billboards down and start over."